summary
The separated heat recovery heat pipe is a compact and efficient heat transfer device, which is used to recover the energy in the exhaust process to precool or preheat the fresh air, without the risk of cross contamination.
Separate heat pipes are for those
These systems are designed for process applications up to 94 ° C and comfortable applications where external air is precooled or preheated from exhaust.
Due to the phase transformation characteristics of the heat pipe system, 45% or more of the heat can be recovered from the hotter air flow.
This unique technology can recover heat for process applications, except for summer, winter or winter summer comfort applications only.
Multiple circuits with proportional control valves or bypass allow for capacity modulation, economy mode, and defrost applications in cold climates.
It can be used in the following situations:

Advantages of separated heat pipe:
Optional power type
Multi loop enhanced performance
Control valve, bypass, anti frosting and economic operation mode can be selected
Separate liquid and steam lines for maximum heat transfer
Flexibility in size and configuration for most applications
To be completed by factory technicians on site to ensure satisfactory and trouble free installation.
Applicable to renovation and new construction projects
Energy saving operation mode
Winter heat recovery mode only:
Outdoor high temperature fresh air coil is lower than indoor exhaust air cold coil
Maximum horizontal spacing of coil: 30m
Maximum vertical spacing of coil: 30m
Comfort and technological application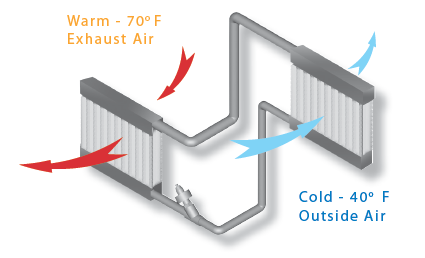 Summer heat recovery mode only:
Outdoor low temperature fresh air coil is higher than indoor exhaust heat coil
Maximum horizontal spacing of coil: 30m
Maximum vertical spacing of coil: 30m
Direct expansion cooling coil can improve energy efficiency in summer
Comfort and technological application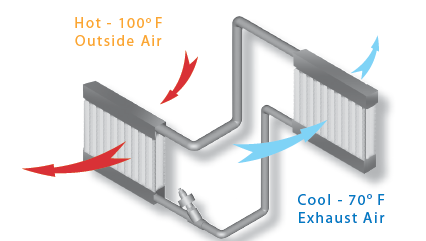 Dynamic heat recovery mode:
Annual heat recovery
Maximum horizontal spacing of coil: 40m
New and exhaust heat coils must be installed on the same level
Direct expansion cooling coil can improve energy efficiency in summer
Comfort and technological application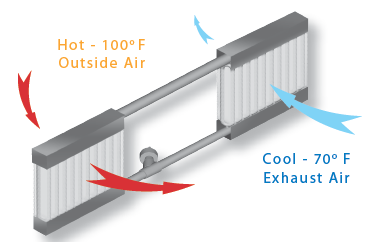 Applicable occasions:
laboratory Pharmaceutical Workshop
Medical complex building Industrial plant
Educational facilities Data center